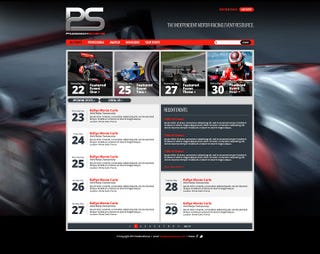 Each weekend Jalopnik provides a very useful Motorsports Roundup piece which highlights all the major motorsport events. The guide is really great, but if you want to know where and when a local autocross is ran? What about a cruise night? You miss the last Cars & Coffee, perhaps a reminder would have helped?
There are car events happening all the time, but there has never been a place where they are all listed in one place. Until now.
Michael Briskie, a car guy just like you and I, decided to do something about this lack of information. In early June he will be launching a website called PaddockScene.com which is devoted to all car events, big and small, around the country. Plug in your zip code and the site will let you know what's happening. Want to share pictures from yesterday's show? Upload them to the gallery. Traveling? See what's happening at your destination.
These are the early screenshots from the upcoming website. Michael has finalized the design and the site is currently undergoing testing. He has committed everything he had to PaddockScene; money, time, he even quit his job at a large car manufacturer. He has a great business plan, knows the industry really well, and is certain of its success.
There will be a lot more to this site than what I described here, and he had a firm answer to everything single question I had for him, which I found quite surprising. He is motivated and confident, and he has put a lot on line for this website.
While he is not looking for partners, Michael recently started a Indiegogo campaign in order to relieve some of the stress on his wallet. Now, we have recently seen a ton of annoying crowd-sponsored-wanna-be automotive projects come to be, but this is different. I like Michael's idea and we think that in the end it will provide a great service to the car enthusiast community. He's got a product, a service, a path forward, and a ton of his time and money invested into this, whereas others are asking people to sponsor their vacation.
Check out the below video. If you're still reading this, Micheal's Indiegogo page has a lot more detail.